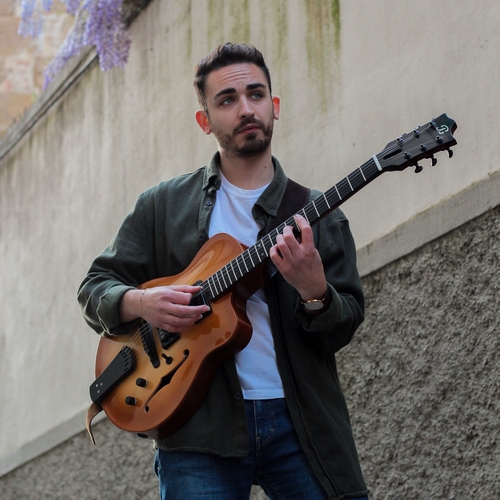 Simone Basile
Simone Basile is an Italian guitarist born in Taranto, Italy. As a child, he had studied acoustic guitar, though later, under the influence of M° Salvatore Russo, his interest for electric guitar grew and led to him developing a passion for blues and jazz music. Guided by M° Umberto Fiorentino, in 2017 he graduated with a distinction at Luigi Cherubini Conservatory in Florence, with a specialization in jazz guitar.

He has attended many seminars and private lessons with international artists such as Gilad Hekselman, Peter Bernstein, Joe Martin, Bill O'Connell, Dave Kilminster, Scott Henderson, Greg Hutchinson, Roberto Gatto, Rotem Sivan, Jesper Bodilsen and more.

In 2017 he was identified as one of the greatest Italian jazz talents at the national contest "Chicco Bettinardi" in Piacenza.

In 2018 he released his first trio album, "Time", for Emme Records, with Francesco Angiuli on bass and Marco Valeri on drums, available on all digital stores.