Simone Basile is an Italian guitarist born in Taranto, Italy, and now living in Florence. In 2017 he was identified among the Italian jazz talents at the national competition "Chicco Bettinardi" in Piacenza.

September 1, 2022, he released "Morning Raga," a concept album published by EMME RECORD LABEL featuring some of the best talents in European jazz: Manuel Caliumi on sax, Enzo Carniel on piano, Ferdinando Romano on double bass and Giovanni Paolo Liguori on drums.
The record has been chosen for the project "New Jazz Generation 2023", promoted by I-Jazz with the help of NuovoIMAIE and the Italian Ministry of Culture, which will see the Simone Basile 5et busy for 2023 in several festivals around Europe and Italy.
The record has received much press and critical attention throughout Europe and America.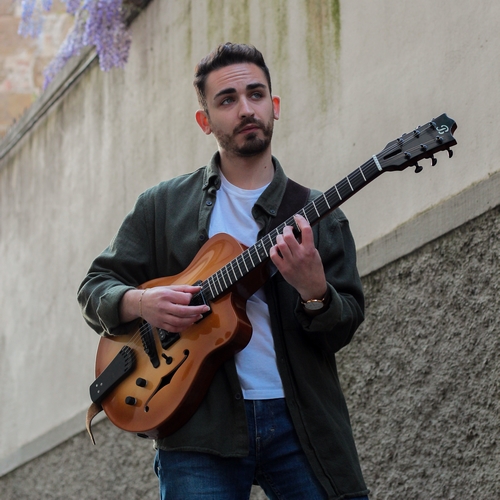 He graduated under the guide of Umberto Fiorentino with the highest honors at "Luigi Cherubini Conservatory" of Florence in jazz guitar.
He has attended numerous seminars and private lessons with international artists such as:
Gilad Hekselman, Peter Bernstein, Joe Martin, Bill O'Connell, Dave Kilminster, Scott Henderson, Greg Hutchinson, Roberto Gatto, Rotem Sivan, Jesper Bodilsen and others.

He played in different festivals and clubs such as: "Fara Music Festival", "JazzMi" , "Strings city", "Il jazz italiano per le terre del sisma", "Cantina Bentivoglio", "Empoli Jazz", "Mantova Jazz", "Ancona Jazz Festival", "Firenze Jazz Festival", "Valdarno Jazz Festival", "Cadiz Jazz Festival", "Nigran Jazz Festival", "Medimex", "Balkan Jazz Festival", and others.